Tyler Cain
Ray of Shunshine
ONE. OFA. KINDA!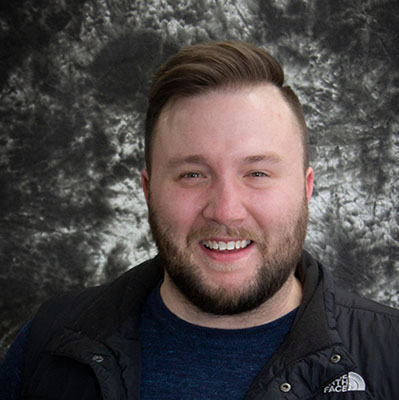 Tyler lives in Kalona with his husband Kurtis and their pets, 3 dogs and a cat.
Born and raised in Kalona, they have bought our first house in 2018. Kurtis was forced to move to Kalona as Tyler would not hear of leaving this community, except for traveling! If Tyler could get paid to travel the world he would do it in a heartbeat.
As huge a huge Disney fan, Disney World is his favorite place to visit and does so every other year. When not working, he is either at home watching Real Housewives or listening to Taylor Swift while planning the next Disney Trip. Often, he will tell Kurtis when he gets home that he just randomly booked vacation to Disney world to watch him stress out!
You may have seen him while helping at Fall Festival or the 5k during Kalona Days, otherwise he helps do the bookkeeping for iTech and offers a friendly voice or face in his role as KCTC Customer Service & Sales.
What he loves most about working at KCTC are the members. "When they call in I love to hear how they are doing. If I could just chat to our members when they call in I would do it. I personally think in order for a business to succeed, we need to have that personal caring touch and I am here to do that." Tyler stated. "We are a business that cares about you personally. We care more about our members than profits. We are active in the community and give. We shop local when we do events or markets for its KCTC members. Everywhere else they just get you to sign up to take your money with no support.
At KCTC Tyler is always making sure we are all having a good time. "No one wants to go to work and sit behind a desk and they have no personality. I may make sure we are having too good of a time. But hey business in the front. Party in the back." He stated unapologetically. "Overall we are a one big family. We have our arguments, laughs, and hugs, but at the end of the day we support each other and care about one another."
He is most proud of his accent to his current position. "I started at our Radioshack store as part time. Casey had given this social butterfly a shot at this job. After a year I became a Full Time employee. That's when I started really caring and realized I was doing an amazing job. It wasn't till 2018 when Casey had asked me to switch to KCTC because of my work ethic and my passion for this business. I felt like I had gotten an actual adult job and it made me feel really good about myself and that I have made it." He said before closing with this as a final thought. "Carole Baskins killed her husband and I like fried chicken!"