We are committed to customer care & satisfaction
Let us help with any questions or comments.
Looking for remote access help?
And call us at 319-656-3668 to allow a tech to connect to your device.
Smarthub is your easy to use tool to manage your KCTC Account!
DOWNLOAD THE APP FOR MOBILE DEVICES!
How to install your
wireless mesh extender
How to install your
wired mesh extender
How to reboot your
managed wifi router
How to check cables on your
managed wifi router
How to use the on / off on your
managed wifi router
How to Replace the Battery in your ups
(uninterruptible power supply)
How to check your
network adapter
Adding a White
Mesh Unit to your router
What is 2.4 and 5g?
Jeremy Gugel Explains
Command IQ:
How to change Wifi password
How To Reboot Your
Amino Set top Box
How to replace the batteries
in your amino remote
How To Change The Input Or
Source On Your Television
Learn to Program Your
Amino Remote
Learn to link your EpicTV Amino remote to your TV
Click below for remote instructions
for Kamai Remotes

Click Here for a printable
Quick Reference Sheet
Skitter TV & Remote Storage DVR
How to record a show with
remote storage DVR
How to Access DVR recordings
in Skitter TV
How to record a series
with remote dvr
How to use Restart TV
With SkitterTV
How to View Airings
in Skitter TV
How to search the guide
in skitter tv
How to set your
rating pin in skitter tv
How to add channels
to favorites in skitter tv
How to set auto
tune in skitter tv
How to change your
password in skitter tv
How to set a
purchase pin in skitter tv
Firestick EpicTV Video Tutotial
Billing
What is the federal universal service charge (FUSC)?
The federal government has established national programs to support the provision of telecommunications services to schools, libraries, rural health-care providers, low-income customers, as well as customers living in rural, insular, and high-cost areas.
As a result of recent judicial action and federal regulatory response affecting the collection of funds supporting these programs, Kalona Cooperative Technology Company charges a Federal Universal Service Charge (FUSC).
The amount of the monthly surcharge will vary quarterly. Generally, the surcharge will be applied per telephone line. However, customers using dedicated interstate special-access circuits (Kalona internet customers) will be assessed a percentage of their monthly interstate service amount.
What is the "End User Charge" on my KCTC phone bill?
"Commonly referred to as the "End User Access" charge on your bill, this charge is part of the FCC's ongoing effort to promote a competitive framework for the U.S. telecommunications industry." This fee is regulated and capped by the Federal Communications Commission (FCC), not by state public utility commissions. It is not a tax or a fee charged by the government. The purpose of the charge is to ensure that all Americans can afford at least a minimal level of basic telephone service, regardless of a rural or urban location.
What are capital credits?
One of the benefits of being a cooperative member is that you are entitled to receive a portion of the cooperative earnings. A capital credit refund is a way of distributing the cooperative's net income to its members. Capital credit refunds issued in the form of allocated surplus can only be retired, or paid to members, upon approval of the board of directors. Each time a capital credit distribution is issued, the cooperative will notify eligible members of their refunds.
What is a cooperative?
"An organization owned collectively by members who share in its benefits." Kalona Cooperative Technology Company was established by its members to provide themselves with a vitally needed telecommunications service. This will provide member's economic and community standards and will also provide significant long-range benefits and contributions both to the community and subscribers.
FOR BILLING QUESTIONS PLEASE CALL 319-656-3668 OR EMAIL BILLING@KCTC.NET
Telephone
How do I know where my telephone wires are located?
Before digging in your yard, it is VERY important to have all your cables located. Call Iowa One Call at 1-800-292-8989 at least TWO days before you dig. Click here for additional information.
How do I change my calling features?
To change your calling features, please log into your SmartHub account.
Voicemail
HOW TO SETUP YOUR VOICEMAIL ACCOUNT
Before you can make full use of E-voice, KCTC's new voicemail system, you will need to set up your account by calling 656-MAIL(6245) from your own telephone. When prompted, enter the PIN# 0000.
First time sign-in involves three steps:
you must change your PIN
you must record your name
you must choose a greeting to play to callers
You may skip first-time sign-in once by pressing the * key twice, but after skipping it once, you must complete the setup the next time you call in.
Changing your PIN
First, to secure your account, you must set up a new PIN.
Enter a new PIN, pressing # when finished.
Confirm the new PIN by re-entering it and pressing # when finished.
Next, you are prompted to record your name. Record your name and press # when finished.
Choosing a greeting
Once you have successfully recorded your name, you are prompted to select a greeting. You can use a number of different types of greeting.
To record a personal greeting, press 1. Record your personal greeting, and press # when finished.
To use a system-generated greeting that announces your recorded name, press 2.
To use a system-generated greeting that reads out your phone number, press 3.
To use a system-generated greeting that neither announces your name nor reads out your phone number, press 4.
An announcement plays back your selected greeting.
To record or select a different greeting, press 1.
To save it and use it as your greeting, press #.
This is the last step in setting up your mailbox. Once you have finished, you are transferred to the Main Menu.
List of Voicemail Menu Options: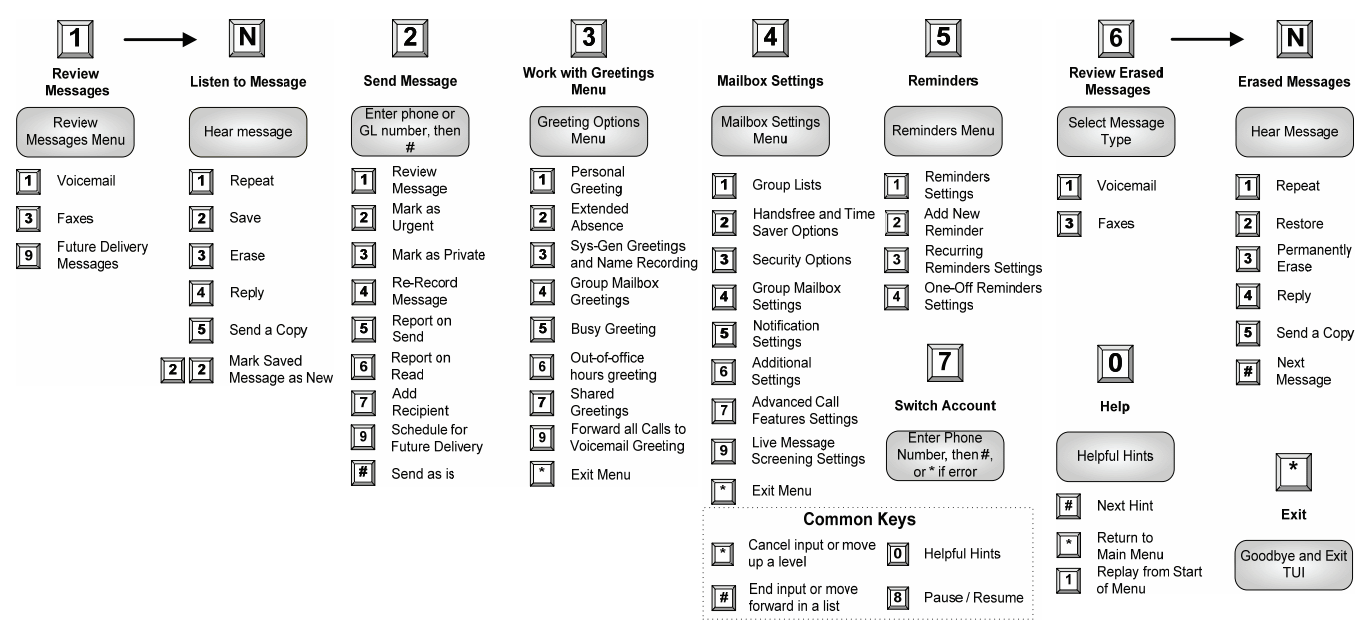 Guías en Español
Before setting up your KCTC email address on a new device, please considering replacing your existing KCTC email address with a new one. Google.com and Outlook.com both offer free email address hosting/registration.
Information you will need to set up your email:
Authentication/General Settings:
Account/Username = [your email address]@kctc.net
Password = [your kctc email password]
Incoming Mail Settings (Always use IMAP):
IMAP SERVER = imap.kctc.net
SECURITY TYPE = SSL/TLS
PORT = 993
Outgoing Mail Settings:
SMTP SERVER = smtp.kctc.net
SECURITY TYPE = SSL/TLS
PORT = 465